Since the onset of the coronavirus pandemic, the increased interest in all outdoor activities has been widely reported.  Both the reduction of other safe social options, and the increased time spent working from home, have resulted in an unprecedented number of us taking to our parks, woods and other outdoor spaces.  Of course, any time spent outside is always beneficial, but never before has connecting with nature been as important as during this pandemic.

Those who have recently taken up hiking, biking or other activities this year may have also discovered what pagans have always known – that spending time in nature does wonders for the mind and body.  But beyond the new age "communing with nature," as a philosophy or spiritual practice, there is a growing body of research that points to the measurable positive effects that spending time in nature can have on those suffering from various psychological disorders.  The timing of this research couldn't be more fortuitous. 
While the standard health care system has been stretched to its absolute limits this past year, mental health professionals and facilities have also seen such a tremendous increase in the need for their services, that many cannot get access to the help they need.  As one mental health professional told me last summer, "you can't get a bed in a psych ward right now!"  This is alarming in many ways, and the mental health crisis we are currently experiencing is not just happening here in the US, but globally.
Various studies are showing that spending from 10 to 30 minutes daily in a natural setting reduces the physiological signs of stress and anxiety, and helps with more acute disorders such as depression, PTSD, and others.  One study has even demonstrated that simply listening to recorded nature sounds, or viewing pictures of landscapes and natural places, have effects similar to those of physically being outdoors.  Although much more research on the psychological and somatic effects of exposure to nature needs to be conducted, it has already given rise to a growing therapeutic technique in psychology, in which psychotherapy and nature are blended in various ways.  The lack of nature in the daily lives of children has been studied to a larger extent, and been informally coined nature deficit disorder, but we could argue that adults have an even greater need of the healing and respite to be found in nature.  Indeed, a love of nature should be cultivated in our youth, and perhaps that is a fatal flaw of our ever more 'civilized' world (a topic for another time?), yet there is no time like the present to incorporate a daily dose of nature into our lives.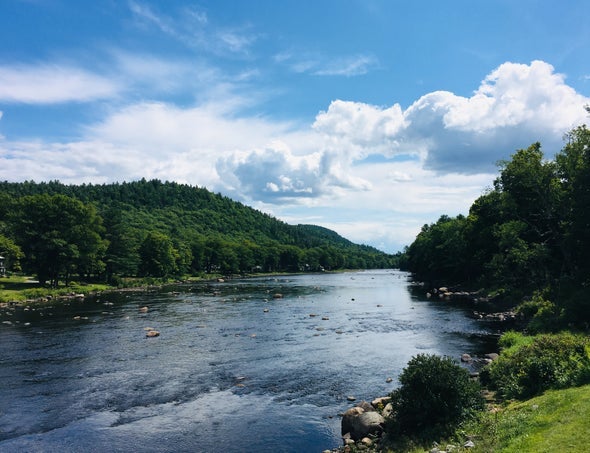 This winter has been unprecedented.  Many of us have had to contend with the twin evils of Covid isolation and seasonal affective disorder (SAD), greatly increasing our risk for depression, and other mental health issues.  More than ever, we need to be very mindful of our mental health, and that of our friends and family.
To that end, here is a compiled list of suggestions and resources to help manage that stress and help stave off depression.
Finally, while nature is certainly amazing and wondrous, it is not a miracle cure.  It needs to be said, as always, that if you or someone in your circle is experiencing suicidal ideation or is otherwise in crisis, please call the above helplines or 911 right away.
May 2021 bring us all joy and relief!
Selected references:
https://www.washingtonpost.com/health/2020/05/04/mental-health-coronavirus/
https://www.frontiersin.org/articles/10.3389/fpsyg.2019.02942/full
https://www.ncbi.nlm.nih.gov/pmc/articles/PMC5842016/
Katerina
Katerina has been an animal and nature lover from birth, and has identified as a pagan and witch since her teenage years.   Her love of the natural world led her to pursue a bachelors in science.   She worked in research at the Yale School of Medicine for over a decade and was co-author on several academic papers.  She has now left the world of academic research science to pursue more satisfying and creative interests.  Some of her many other passions include hiking and backpacking, baking, creating nature-based rituals, growing things, and living seasonally and ethically.  Currently, she operates a custom clothing and accessories business, a pagan-themed soap-making business, and teaches garment sewing classes on the shoreline of Connecticut.
William
William has a PhD in Cellular and Molecular Biology from SUNY at Buffalo.  He is Director of both the Molecular Cores of the Yale Diabetes Endocrine Research Center and the Yale Core Center for Musculoskeletal Disorders, and is a senior Research Scientist in the Department of Internal Medicine, Section of Endocrinology and Metabolism.  He has authored and coauthored many academic papers and mentored many students and post-docs during his career.  He is a life-long and devout atheist, although enjoys honoring and being in nature, its cycles, and is concerned over the multitude of environmental crises we currently face.   William is also a drummer for over 40 years, enjoys building things, renovating their home, and terrifying his wife by climbing up ladders.
Gabriel
Gabriel is currently a manuscript editor of specialty journals.  He has been editing science journals for the past 5 years. He studied Classical Languages with an emphasis on ancient religions, initiation, and mystery cults in the ancient Mediterranean at UC Berkeley. After receiving his BA, he studied history of science and religions, intellectual history, and critical theory at UChicago for his masters degree.  He has been a ritualist and mystical neuronaut for most of his life.
Kansas
Kansas Stanton is a
 Neo-Pagan who resides in Seattle, Washington. He belongs to, and practices with, a local group of Reform Pagans and blogs at https://leavesontheroad.wordpress.com/. He also volunteers every year at the Esoteric Book Conference in Seattle and regularly attends various Pagan festivals and events.
He is a full-time student, earning his degree in Environmental Science and a Certificate in Sustainability, after which time he will move on to grad school (climate science). When Kansas is not in class or working his job in the art industry, he also attends heavy metal concerts both locally and internationally. He is also a vegan outdoorsman who frequents the trails and whitewater rivers of the pacific northwest and loves to spend his time with friends over a cold, dark beer.
Previous Science Posts here.