We are seeking essays, poems, and artworks in an effort to recognize, celebrate, and proclaim the Intercosmic Kinship of the Goddess. Building on the first volume of the Celebrating the Goddess collective writing anthology, Celebrating Seasons of the Goddess, this second volume aims to unleash the latch on the door of the reservoir wherein we and our cultures are deeply rooted.   Link here.
Like all other collective writing projects including She Rises triology (She Rises Volume 1 and She Rises Volume 2), this book is also made possible by volunteers (co-editors, authors, and readers as well as co-creators of Mago Books) who commit themselves to the principle of Maternal Gift Economy. (Read About & People of Mago Books.) In Volume 2, we intend to interweave topics related with but not limited to animals, plants, natural elements, Mother Earth, astrology, constellations, inter-species connections, and trans-cultural Goddess traditions and practices. Detailed themes include:
Celebrating our kinship with animals, plants, and/or natural elements
Ancient traditions and cultures of animals, plants and/or natural elements
13 Month 28 Day Calendars
Goddess cosmology and/or cosmogony
Myth-history-culture on Mother Earth/Creatrix of the world
Goddess spirituality beyond anthropocentrism
Reaffirmation of matriarchal societies
Astrological implications of the Goddess
Moon, Sun, and/or constellations and the Goddess
Bonds with non-human species
Trans-cultural or trans-national Goddess manifestations
Ecofeminist spiritualities
Nature and the Female Divine
Totem beliefs and the Goddess
Vegetarian customs or veganism as Goddess activism
Herbalism and the Goddess
Indigenous spiritualities that celebrate oneness with nature
Ancient gynocentric spiritualities reflected in modern faith practices
Shamanism and its nature shrines
Oppression against women religions
Nature-honoring spiritualities within witchcraft and/or paganism
Motherhood and Gift Economy
Awakening and expanding the deep memory of WE, which includes all animate beings
Expanding the primordial consciousness of the Creatrix and Her Creations
Primary Deadline January 31, 2020
Submission Details
Prose  & Essay – up to 30,000 words
Poetry – any length
All must be submitted as .doc or.docx files
Art work – any form, its image submitted as 300 dpi jpeg files (images less than 300 dpi is unacceptable)
For art and photography, an explanatory short write up is required.
If an image is included in your piece, please indicate where exactly it should go; before, middle or end of the text. Nonetheless, an image may have to be removed or replaced in the case of problem unexpectedly caused by the Amazon's KDP proof tool. Captions may be converted as notes as well for the same reason.
Proposal Details
Proposals (max. 1,000 words) should identify: genre (prose, art, or photography etc.); the topic or topics you are interested in covering; proposed word count (different topics will require varied levels of coverage); your short biographical data (no more than 100 words).
Please attach a separate biography of no more than 100 words, including where you live, your website and contact details. You may submit multiple proposals, and editors will choose one or more from them.
(see additional requirements at that link).
About the Co-editors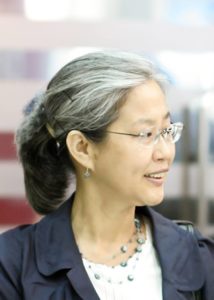 Helen Hye-Sook Hwang, Ph.D.
Helen Hye-Sook Hwang, Ph.D.  is scholar, activist, and advocate of Magoism, anciently originated tradition that venerates Mago as the Great Goddess. She earned her MA and Ph.D. in Religion with emphasis on Feminist Studies from Claremont Graduate University, CA. She also studied toward an MA degree in East Asian Studies at UCLA, CA. Hwang has taught for universities in California and Missouri, U.S.A. Since 2012, Dr. Hwang has founded and directed The Mago Work whose branches include the Return to Mago E-Magazine (http://magoism.net), Mago Academy (http://magoacademy.org), and Mago Books (https://www.magobooks.com). Together with Mago Sisters, she also founded Gynapedia (https://gynapedia.magoacademy.org) and Mago Pool Circle (https://mpc.magoacademy.org) to broaden The Mago Work. She co-edited and published She Rises: Why Goddess Feminism, Activism, and Spirituality? Volume 1 (Mago Books, 2015), She Rises: How Goddess Feminism, Activism and Spirituality? Volume 2 (Mago Books, 2016) as well as Celebrating Seasons of the Goddess (Mago Books, 2017). Also authored The Mago Way: Re-discovering Mago, the Great Goddess from East Asia (Mago Books, 2015).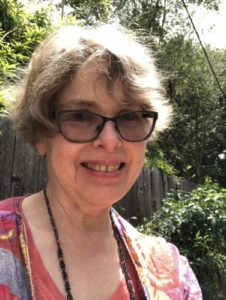 Wendy Stiver, M.A.
Wendy Stiver OSB Obl., RN, CCM, BSN, MA has been a Registered Nurse since 1981. She is a Nurse Educator/Consultant with Anderson Continuing Education, and is writing a continuing education course on human trafficking because nurses have a vital role to play in recognizing assisting victims. Wendy has also written on the Opioid Crisis and Pain Management. She is a certified case manager, earned her BSN for the University of the State of New York. While working as a nurse, Wendy also studied classical piano, played in a variety of professional venues, and completed musicological studies in 1991 at USC with a thesis exploring the Images of the Female Divine in the Hymn Texts of the Shakers. She also studied gender studies with Prof. Lois Banner and Prof. Elinor Acampo at USC. Wendy taught for colleges and university in California, has served as a reviewer for the Clinical Journal of Oncology Nursing, and published Stress Management in the late 1990s. A Benedictine Oblate of St. Brigid of Kildare Monastery, Wendy is also a Mago Scholar for Mago Academy. (https://www.magoacademy.org).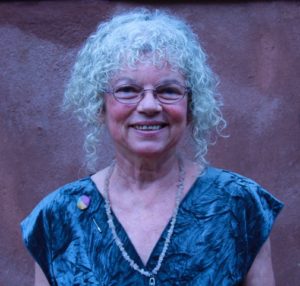 Glenys Livingstone, Ph.D.
Glenys Livingstone Ph.D. (Social Ecology) has been on a Goddess path since 1979. She is the author of PaGaian Cosmology: Re-inventing Earth-based Goddess Religion, which fuses the indigenous traditions of Old Europe with scientific theory, feminism and a poetic relationship with place. She lives in her home country Australia, and has facilitated Seasonal ceremony for over three decades. Glenys co-edited the anthology Re-Visioning Medusa: from Monster to DivineWisdom. In 2014, Glenys co-facilitated the Mago Pilgrimage to Korea with Dr. Helen Hye-Sook Hwang. Glenys is a contributor to Foremothers of Women's Spirituality: Elders and Visionaries edited by Miriam Robbins Dexter and Vicki Noble (2015), and also to Goddesses in World Cultures edited by Patricia Monaghan (2010). She has produced PaGaian Cosmology Meditations CDs, and teaches a year-long on-line course "Celebrating Cosmogenesis in the Wheel of the Year", for both hemispheres. Her website is http://pagaian.org/.