What objects do you find sacred?  Being able to openly pledge based on what symbolizes the most high in our minds is a precious part of being free, and, it turns out, a moving statement about what is important.
A lot of Republicans are outraged that Senator Sinema was sworn in with a US Constitution instead of a Bible (and others with a Qu'ran – those pearls are pretty much powder now).  Why the outrage?  OK, well, the outrage isn't a surprise – I think many of us would have expected the outrage.  After all, it's a solid part of Christian privilege that our laws are made by people who are expected to place a hand on a Christian bible when starting their jobs making the law of the land for everyone.  So solid, in fact, that the spokesman for theocrat Roy Moore had a pretty hilarious response when it was pointed out to him that swearing in on a Christian bible actually isn't required by the constitution.
So back to Senator Sinema.  She had the courage to be sworn in using something else – a US constitution, in fact.  It would seem that swearing on the very text one is committing to uphold would be the most bland, unsurprising act possible – yet, of course people were outraged, for the reason described above.  But this got me thinking.  Of course the constitution doesn't require the use of a Bible (or even a book).  The act of placing a hand on, and "swearing on", is a moving ritual, pledging one's own actions, intentions, and one's very mind.  Realizing this, it seems to be one of the most powerful short rituals I can think of.  And this powerful ritual is one which is thousands of times a year, in federal and state congresses, in courthouses with witnesses, and more, across the United States!
As Naturalist Pagans, many of us (me for sure) are looking for compelling rituals which are consistent with reality and help us all build a better world for future generations.  This short ritual lends itself very well to that goal.
I think the swearing in "on" something can be a both a strong statement of what we each care most about, as well as a ritual which touches us deeply ourselves, reminding us – dedicating us – to our highest ideals.  So what would you swear on, if or when you are faced with the chance to do so?  This is not just a hypothetical question – many of us will, at some point in our lives, be faced with exactly that opportunity.  Books obviously come to mind due to our cultural expectation of swearing on a book.  A book (say, Marcus Aurelius' "Meditations") can be excellent choice – but why be restricted to books?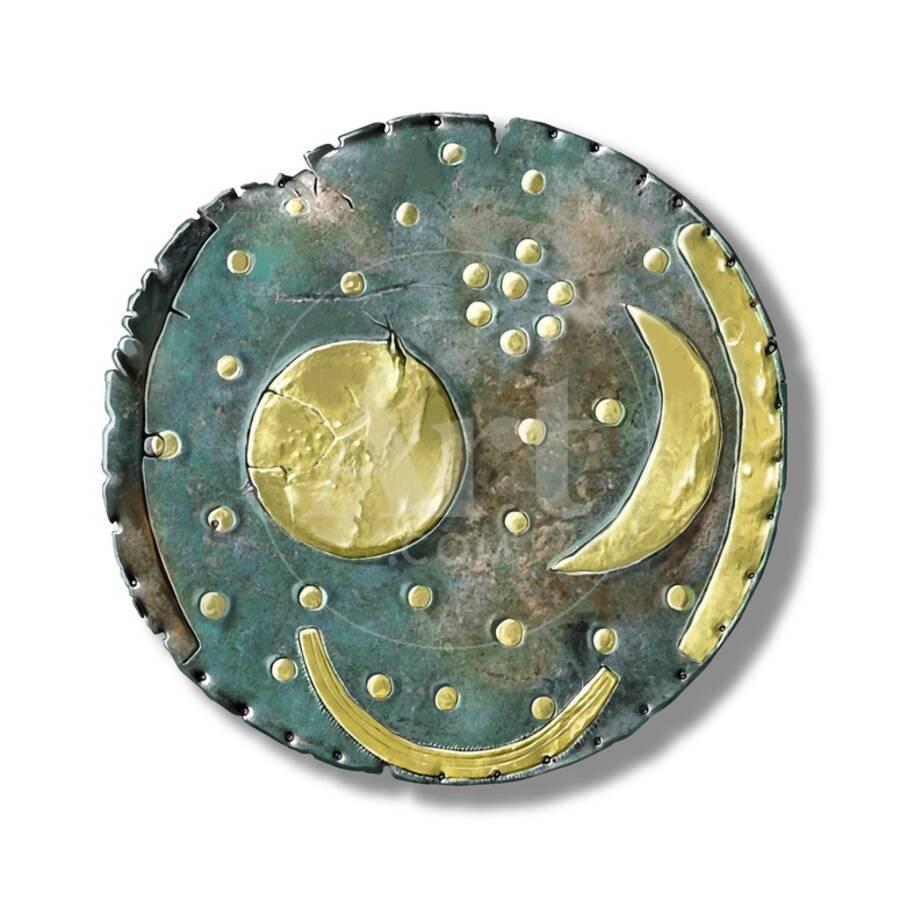 For instance, in another discussion, a Minnesota Atheist mentioned that she'd probably swear on a handful of Minnesota soil. Thinking on that, I might use a treasured fossil I found as a child. Even if the original idea of swearing on a genocidal and harmful book was a bad idea, we may be able to salvage the ritual into something beautiful – something beneficial for us all. What would you be sworn in using?
Several things came to mind for me.  Perhaps my replica of the Venus of Lespugue, symbolizing our source with a symbolic mother goddess, the Earth (as well as the efforts to carve her out of mammoth ivory by our Ancestors).  Or maybe my replica of the Nebra Disk. It's something that our Ancestors used to keep their community alive through observation of the stars so as to know when to plant the crops. So it can symbolize knowledge, community success, science and observation – as well as my overwhelming gratitude for toiling for years through unbelievable hardship to give us our existence today.  Or an abalone shell, a sacred Anishaabe item.  I posted the idea on facebook, and more deeply moving ideas rolled in.  Maybe a replica of an Achulean hand ax – crafted with care and expertise, and able to provide food for the families in the village to survive the harsh winter, year after year?  Another friend mentioned a mechanical watch, as it represents precise engineering and science.  
Of all these many more good ideas, I have to admit that one answer swept them all from my mind.  One answer pulled my attention from the good and appropriate idea of gratitude for my Ancestors – and instead directed it to our love for our children and future generations.  That answer was simply "a picture of my daughter".  So true, so real, and so unstoppable.
Wow! Exactly. it is her world you are building. Politicians should all be sworn in on pictures of the future generations or a drop of water, or anything reminding us of the future we are give to (or stealing from!) our grandkids, instead of a vicious book which continues to hurt people today. How wonderful it would be to see this change! I hope I live to see the day when it's common for this ritual to be more meaningful, and that my kids see the day when it's almost always based on real things like future generations and this world – in wonder, in awe, in dedication, or in all of these.
We are assemblages of ancient atoms forged in stars – atoms organized by history to the point of consciousness, now able to contemplate this sacred Universe of which we are a tiny, but wondrous, part.
Dr. Jon Cleland Host is a scientist who earned his PhD in materials science at Northwestern University & has conducted research at Hemlock Semiconductor and Dow Corning since 1997.  He holds eight patents and has authored over three dozen internal scientific papers and eleven papers for peer-reviewed scientific journals, including the journal Nature.  He has taught classes on biology, math, chemistry, physics and general science at Delta College and Saginaw Valley State University.  Jon grew up near Pontiac, and has been building a reality-based spirituality for over 30 years, first as a Catholic and now as a Unitarian Universalist, including collaborating with Michael Dowd and Connie Barlow to spread the awe and wonder of the Great Story of our Universe (see www.thegreatstory.org, and the blog at evolutionarytimes.org).  Jon and his wife have four sons, whom they embrace within a Universe-centered, Pagan, family spirituality.  He currently moderates the yahoo group Naturalistic Paganism.
See Starstuff, Contemplating posts.