Still Life, 2008
As I draw on to the end of my fifth decade, I'm feeling reflective. Indulge me in a little reminiscence, and by all means come to my birthday party. What follows is an account of my fifth and most recent decade of life, which may hold special interest for readers of Humanistic Paganism. For more on my story, the intrepid reader is invited to check out my first, second, third and fourth decades.
Conception
My 40th birthday sure was a downer. My friend had been murdered, and the recovery of my adopted city of New Orleans was in doubt. I'd been thrust into the spotlight as a spokesperson on the issue of violent crime, a topic which I was radically unprepared to address. I found myself questioning our decision to return. Maybe we should have played it safe and stayed in the Midwest.
Oddly enough, my speech at the "March for Survival" and my involvement with multiple civic organizations got me invited up to Harvard University where I participated in a week-long seminar on leadership. It was the spring of 2007, my first venture outside the devastation of New Orleans since we'd moved back in the fall of 2005. Being in a place where things functioned and recovery didn't dominate the news was refreshing.
But the substance of the seminar was even more transformative. I learned that leadership and authority are not the same thing, though they are often conflated. Leadership is never authorized. It's inherently subversive, inherently risky.
I returned to New Orleans with a renewed sense of hope. A few weeks later I got to take a real vacation, with Christy, to Vero Beach, Florida. We stayed at the fabulous Driftwood Inn. We were surrounded by love bugs, the biggest swarms in recent memory. We did our best to imitate them.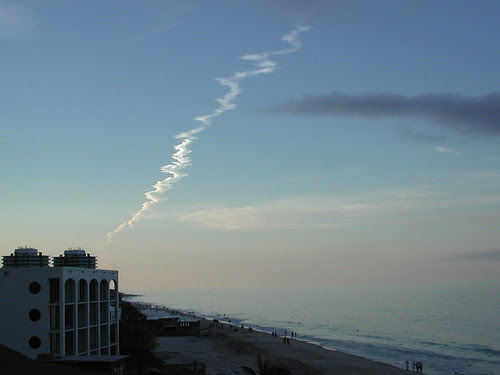 In our fervor, we missed the launch of the space shuttle. But that's OK, because as it turns out, our daughter was conceived in that moment.
Birth
After fifteen years as "just a couple," we were to become a family. We hastened to complete our post-Katrina renovations.
The power to reproduce is a mighty power, performed mostly by the female. I honor my wife endlessly for doing the hard work of carrying and delivering our child. I was a mere bystander, but I've done my best to play an active role in my daughter's life ever since.
The birth of our daughter was undoubtedly the single most transformative event of my life. Katrina be damned! People warned me ominously that my life would change forever. It was kind of annoying, but they were very correct.
I had to step back from my civic commitments, stepping down from the boards of the Urban Conservancy and Mid-City Neighborhood Organization, and turning aside from the newly formed Silence Is Violence, to focus my efforts on the one group that meant the most to me personally: Friends of Lafitte Greenway. We kept doing our annual hike, and I went around making presentations on the idea of building a greenway through the heart of New Orleans to anyone who would listen. Eventually I became president of the Friends, but most of the work was done by other, more talented volunteers. It was my honor, my privilege, to serve as a face and a voice for the effort.
But I'm getting ahead of myself.
Turn in, open up, move out
Despite that work, the years after my daughter's birth were largely a time of turning inward, to focus on my daughter, my family, and myself. Having a child not only brought up old memories from my own childhood, it also forced me to confront unresolved issues from other times in my life. What kind of father was I going to be? What kind of person am I, anyhow? Who am I? What do I love? How shall I live? What do I owe the Earth? (Tip of the hat to Wayne Muller, who has framed these questions so eloquently in his book, How Then, Shall We Live?)
I found myself easing into a kind of bliss as I relished these questions, a spiritual ecstasy akin to that which I'd experienced at age 22, but slower and gentler. It felt like an unfolding, an opening to possibilities, an expansion of the self.
It wasn't all good times and laughs, of course. In the summer of 2009 we discovered our daughter had lead poisoning. What! How did this happen? I was heartbroken.
We never did discover the source of the lead, but it got us thinking about maybe selling our house. Then I had a close encounter with a young man who was hiding from the police in our back yard. Those two things gave me the impetus to call our realtor, and three months later we were selling our old house and buying a new one. We came out slightly ahead on the deal, and so I'm able to state that we were indeed "made whole," at least financially, after the devastating floods of 2005. We only moved about a mile, but to a much more stable block, with more owner-occupied homes. And we got central air.
Meanwhile, my long-suffering wife had some tough times in our ever-evolving school system. It's hard out there for a veteran teacher.
After my 43rd birthday, my body began reporting the normal aches and pains associated with aging, a reminder of my mortality.
My spiritual odyssey continued to unfold in weird and surprising ways. Much of it revolved around my job. I work in faculty development, but since my hire in 1999 I'd considered my job in the narrowest terms, strictly focused on the creative use of technology. Ten years later, I attended a meeting of the Professional and Organizational Development Network in Higher Education, and I found myself drawn to sessions on religious literacy and "uncovering the heart" and contemplative pedagogy — all manner of "touchy-feely" topics that seemed to have nothing to do with technology.
It was a game-changer. I went to that conference as a technologist and came back as a faculty developer.
Intentional transformations
It's hard, after doing one thing for a decade, to change up your routine. It took me a year of preparation to do my first non-technology workshop. But in the fall of 2010, I convened a session on "A Moment of Silence." I've continued to organize programs around contemplative pedagogy ever since.
I'd enjoyed a sort of effortless spiritual development for about three years after my daughter's birth. When the momentum began to flag, I realized I would have to be more intentional if I wanted to continue the process of self-discovery and growth. I embarked on a year-long project in which I did just that. I adopted new habits, like baking bread and meditating, as well as finding new meaning in old habits like writing and making art. I made a point of observing the eight sabbats in the Wheel of the Year. Eventually I wrote a book on the topic of seasonal celebrations.
At the end of it all, I realized that I am at heart one of those Earth-centered, nature-loving, tree-worshiping Pagans you may have heard about — a contemplative, activist, eclectic, celebratory, naturalistic, process-oriented, Goddess-professing, practicing Neo-Pagan with pantheistic tendencies and Buddhist inclinations. I've found community locally with the New Orleans Lamplight Circle and globally through a number of networks including Humanistic Paganism and "A Pagan Community Statement on the Environment."
In the simplest possible terms, I reaffirmed that I was a part of something bigger. Of all the different "bigger somethings," I find no image more inspiring than that of Gaia, or Mother Earth. In all that I do, I aim to allow my devotion to guide my efforts. This is no new turn but a return: a return to the values I discovered in my youth but didn't always know how to articulate or maintain in focus.
Catching up to the present
I hope that doesn't sound like I've got it all figured out, because I don't, not by a long shot. I'm still a work in progress, and I often struggle just to get through the day.
I'd been working to establish a heavy drinking habit for years, and Katrina sealed the deal. As I entered more introspective modes and started getting interested in meditation, I felt I needed to make some changes. And I did. I quit drinking almost entirely for a year or two. Now I'm back in the game, but with a recalibrated liver and a more moderate approach.
I'd relished my time with Friends of Lafitte Greenway, but I was gratified to see the group achieve escape velocity. They would continue to fly on their own, with or without me. The annual hikes continued, and eventually the greenway was built. Hooray! I've been officially honored for my role in this project three or four times now, which has been immensely gratifying. Every time I set foot on the Lafitte Greenway, I'm filled with pride and, more importantly, with hope. That's the real reward.
I've gotten back into Green Party organizing. I find it is the only political party that is consonant with my most deeply held values. I've been actively working to establish a local chapter here in the New Orleans area since September 2015. It's challenging work but rewarding in its way. If you're in the New Orleans area you're welcome to join us as we work to give electoral expression to the movements for ecological wisdom, social justice, grassroots democracy, and peace. If you're interested in starting this work in your own community, feel free to get in touch with me.
Oddly enough, I was recently invited to participate in the Norman C. Francis Leadership Institute, a great honor for me. It's based on the same philosophies and ideas as the seminar I attended ten years ago. My fifth decade is thus nicely bookended by this theme of leadership and its many pitfalls.
Looking back, I'm surprised to note that this may have been the happiest decade of my life so far. My first decade was pretty happy too, but I don't remember most of it. I count myself as a privileged and fortunate person (I almost said blessed) yet I'm fully cognizant that these are not happy times when you consider the bigger picture. I've been alarmed and concerned about the state of my communities, my nation, and the world for the better part of my life, and in many ways things seem worse than ever. But that only strengthens my resolve and my desire to work for justice and peace.
The task of looking back on my life has not always been easy. Pain seems to be a necessary component of all good stories. If I have emphasized the painful aspects of my life overmuch, it's in the effort to tell a good story. However, the last ten years have been more about recovery than pain for me. Perhaps that makes for a less interesting story, but I'll take it.
I guess that about wraps it up. I'm entering my (gulp) sixth decade here on Earth. Wish me luck.
Bart Everson
Bart Everson is a writer, a photographer, a baker of bread, a husband and a father. An award-winning videographer, he is co-creator of ROX, the first TV show on the internet. As a media artist and an advocate for faculty development in higher education, he is interested in current and emerging trends in social media, blogging, podcasting, et cetera, as well as contemplative pedagogy and integrative learning. He is a founding member of the Green Party of Louisiana, past president of Friends of Lafitte Corridor, sometime contributor to Rising Tide, and a participant in New Orleans Lamplight Circle.
Bart is also a regular columnist here at HP.  His column is called A Pedagogy of Gaia.